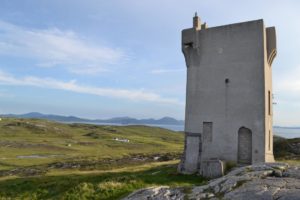 We are Mick and Maria, we manufacture and distribute all the goods that are produced by Inishowen Candles.
We started the company in 2011, as Maria, a qualified and registered Homeopath and Reflexologist, and a confirmed candle user, was concerned and confused regarding the issues with Paraffin wax.
Upon investigation we were horrified to read the reports that had been carried out regarding the use of Petroleum Products in candles.As we were seeking a project that we could work on together which was both creative and interesting we decided to enter the mysterious world of the fragranced candle..!
After several weeks of testing and trials we began producing candles using 100% Advanced Soy Wax, with cotton wicks with a paper core. Our criteria then,as is now, was to produce candles and associated items that are environmentally friendly, safe for the consumer to use in their home and would give value for money.
We guarantee that the wax we use for our candles is 100% vegetable wax created from pure soy beans
Manufactured to meet FDA standards
Kosher certified and vegan acceptable
Does not contain Palm wax / paraffin wax / Bees wax / or any petroleum products
No genetically modified material
Soy wax is a resource that can be replaced at a rate comparable or faster to the rate of consumption
Soy wax is completely biodegradable
Every candle and soy wax tarts are infused with high quality fragrance oils that will last for the duration of the candle and we continue to work with reputable perfumers to create new fragrances for now and into the future.
All our products are hand poured in
MALIN HEAD
CO. DONEGAL
IRELAND